I love designing. Love it. It wasn't long after I'd started knitting (almost a year ago) that I started to branch out from patterns and make up my own. I'd have a picture in my head of the kind of thing I wanted to make, but I could rarely find an already written pattern, so I took it into my own hands.
I think my first big self-designed project was a cute tanktop with crossover straps that can cross in the front or the back, done in Crystal Palace Shimmer in a gorgeous varigated blue and green colorway. After that I moved on to real sweaters - recieved Maggie Righetti's "Sweater Design in English" from my secret pal in SP5, and purchased "Knitting from the Top" by Barbara G. Walker, and went on my merry way.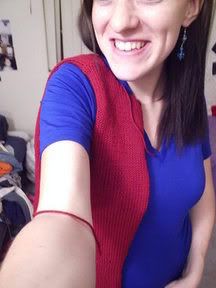 So this sweater, made out of lucious Cascade Sierra [80% cotton 20% wool] is probably the easiest project I've designed yet. The most challenging parts are yet to come, I'm assuming - most of what I've done has been stockinette, with a little shaping, and I have yet to come to the installation of a zipper, and picking up stitches for a rolled over, 4 or 5" ribbed neck.




Mmm.

I work at my LYS (love it :]) and being there 4 days a week, it's kind of a 50/50 chance each day on whether I'll come home with a new yarn purchase or not - sometimes I temporarily "forget" that I already have plenty of yarn at home, and more than enough UFOs - but well, who could resist this?




4 skeins Debbie Bliss Cashermino Aran in color 612. LYS doesn't actually carry this yarn anymore - we had it on discontinued sale last year, right after I started working there and when I was still a brand new baby knitter and I wasn't quite a yarn collector yet. However, LYS owner was cleaning out her garage and found some old yarn that she had planned to make somehting out of for a store sample, but never got around to it - this was one. So it went into our "Orphan's Bin" of sale yarn - and when I got into work this morning, there it was, calling my name, practically screaming "I want to be a shrug!". So before I left I bought it. C'mon, it was on sale.

Addiction doesn't even begin to cover it. I admit - while some collect baseball cards, beanie babies, etc...I collect yarn. Yarn is SO much prettier than a beanie baby!