I'm a nature girl. I love almost everything having to do with the outdoors - camping, hiking, rock climbing, you name it, I probably love it or would love to do it if given the chance.
Living in Las Vegas - city of bright lights and also the city that can't leave any land vacant for longer than a few months before building another shopping center or casino - getting away from all of that and finding a place to enjoy nature isn't quite so easy. Luckily, we do have a few spots. Red Rock, for one.
My friend Nicole & I ventured up there today. First time I've been in years - it was more beautiful than I remembered :] My camera decided not to work, but I have a few pictures from hers.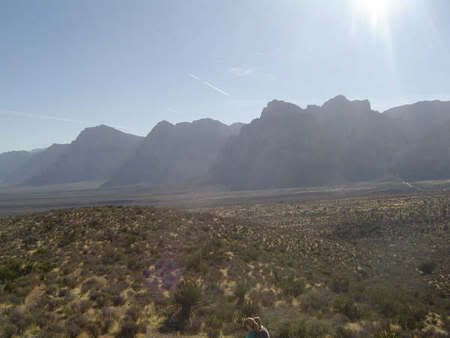 Finding Cactus in Las Vegas is more rare than you'd think. I was excited to find this patch ;]



"Mountain girl" hair.



Nicole


On the way back, we saw a wild donkey in the middle of the road, blocking the pathway -- several cars had stopped to pet it. Who could resist that?? We stopped and got pictures with it, and pet it - quite an experience :]

On the knitting front, I finished the back & both fronts of the Sierra sweater, and am about to cast on for sleevie #1 - and I started & am about half way through with the spoken of shrug the Debbie Blis Cashmerino I got wanted to be ;] Aurora Cable sweater still sits on my yarn cabinet, unfinished.