So, no progess yet on sleevies for my Sierra sweater. I got incredibly sidetracked today - barely even worked on my HP scarf, with 6 full-sized, COS-style harry potter stripes to go by tomorrow night. I know what I'll be doing after work tomorrow =
Anyway. The reason I got sidetracked is because of this: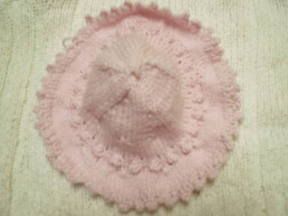 Miss Dashwood from Knitty. Knit in a random merino I had at the house.
I got suckered in by that beautiful baby in the pictures. Great looking baby, and great photography. It's unmodeled because I don't have anyone to model it - and it's not for anyone in particular - I wanted to try out the pattern :] Started this thing at about 5:00 and finished late this evening. I made the smallest size and *gasp* I
didn't do a gauge swatch. shhh!
-- ok, I do have reasons. Firstly, I didn't make it for anyone in particular, so it doesn't need to fit a certain size baby. Secondly, I figured that if my gauge was any different it was most likely to be larger than the pattern, which isn't that bad - it's better to have something a little big than too small - especially for babies. So I just went at it.
I like the pattern, although I think next time rather than all the billions of "k4togtbl" - which weren't very fun to do, and I don't like the way they looked afterwards - I'll try a different decrease method that will hopefully look better. I like the picot cast-on, it was pretty easy although it took a LONG time to do. I'm thinking, too, that I could use a finer gauge yarn and follow the directions for the largest size, so it would come out smaller. Maybe a DK weight.
If I don't post or comment on anyone's blog tomorrow, it's because I'm knittng my fingers off on my HP scarf. 2 days to go ;/ I may end up skimping on a stripe or two, before long this thing will be big enough to eat me alive.