Yard sale-ing turned out to be prettymuch a bust. I didn't buy a single thing - I don't think that's ever happened in my entire history of yard sale-ing. I found 1 sewing machine (the thing I was really looking for), really vintage, but I came home to look it up on the web & couldn't find anything, probably mostly because I forgot the whole name of the machine :X Oops. I'll likely be getting a brand spankin' new one for Christmas anyway, or for my birthday [which is in a week and a half], so it's no biggie.
I'm helping house-sit this weekend - for a woman with 3 ferrets, 2 cats, 2 birds, and - get this - a little horse ranch in her back yard. She has a few horses, and then there are boarders who live there also. I'll probably take some pics tomorrow, today was a "lay back, relax, watch movies and knit" afternoon. I guess the big question is...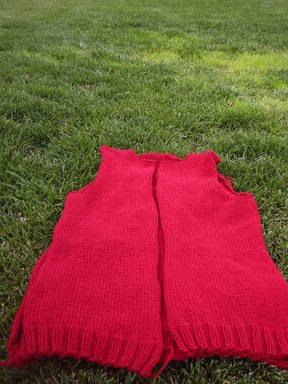 will I make any progress on Sierra Sweater?
Time will tell. :]